A Minute to Midnight: An Atlee Pine Thriller, Book 2 by David Baldacci: Conversation Starters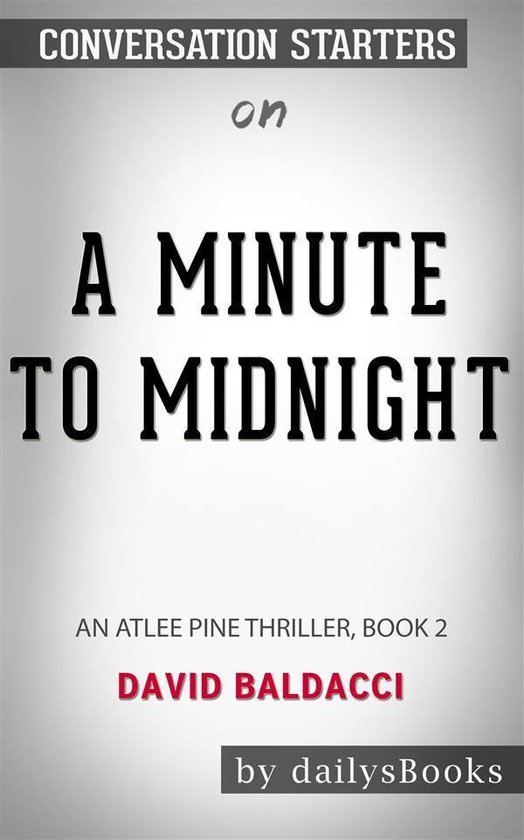 € 3.49
A Minute to Midnight: An Atlee Pine Thriller, Book 2 by David Baldacci: Conversation Starters
Kijk voor 'A Minute to Midnight: An Atlee Pine Thriller, Book 2 by David Baldacci: Conversation Starters' bij de volgende boekwinkels:
A Minute to Midnight: An Atlee Pine Thriller, Book 2 by David Baldacci: Conversation Starters A Minute to Midnight is the second installment in the bestselling Atlee Pine thriller series by David Baldacci. FBI Agent Atlee Pine knows that she has to face her childhood demons if she wants to keep her job. After letting her emotions get the best of her while apprehending a child abductor, she's forced to take time off work. Atlee uses this opportunity to return to her hometown in Georgia to uncover the mystery surrounding the kidnapping and suspected murder of her twin sister, Mercy, thirty years ago. With her assistant, Carol Blum, Atlee awakens old rumors and secrets in her town that can give her the answers she's looking for. Just when she feels she's on the right track, however, a woman is found murdered with cultish implications, and another body is discovered shortly afterward. Now, Atlee has to find the suspect to prevent another murder from happening while unearthing details from her past that she might not be ready to learn after all. A Minute to Midnight is a New York Times #1 bestselling book. It garnered an impressive 4.21-star rating on Goodreads based on 1,961 reviews and 24,662 ratings. Associated Press described it as a book that "spooks and horrifies," and Providence Journal called it an "angst-riddled tale" that readers will have trouble putting down past midnight. A Brief Look Inside: EVERY GOOD BOOK CONTAINS A WORLD FAR DEEPER
than the surface of its pages. The characters and their world come alive,
and the characters and its world still live on.
Conversation Starters is peppered with questions designed to
bring us beneath the surface of the page
and invite us into the world that lives on. These questions can be used to create hours of conversation: • Foster a deeper understanding of the book
• Promote an atmosphere of discussion for groups
• Assist in the study of the book, either individually or corporately
• Explore unseen realms of the book as never seen before Disclaimer: This book you are about to enjoy is an independent resource to supplement the original book, enhancing your experience*.* If you have not yet purchased a copy of the original book, please do before purchasing this unofficial Conversation Starters. Download your copy now on sale
Read it on your PC, Mac, iOS or Android smartphone, tablet devices.
Details
Auteur : Daily Books
ISBN : 9791220248099
Taal : Engels
Uitgever : Daily Books
Uitvoering : E-book
Verschijningsdatum : januari 2021
Anderen lazen ook
Meer boeken zoals dit
Wil je meer boeken zoals 'A Minute to Midnight: An Atlee Pine Thriller, Book 2 by David Baldacci: Conversation Starters' lezen? Kijk dan eens naar de andere titels die door lezers van dit boek werden bekeken. Misschien vind je daar het boek dat je zoekt.