The Power of Vital Force
Fuel Your Energy, Purpose, and Performance with Ancient Secrets of Breath and Meditation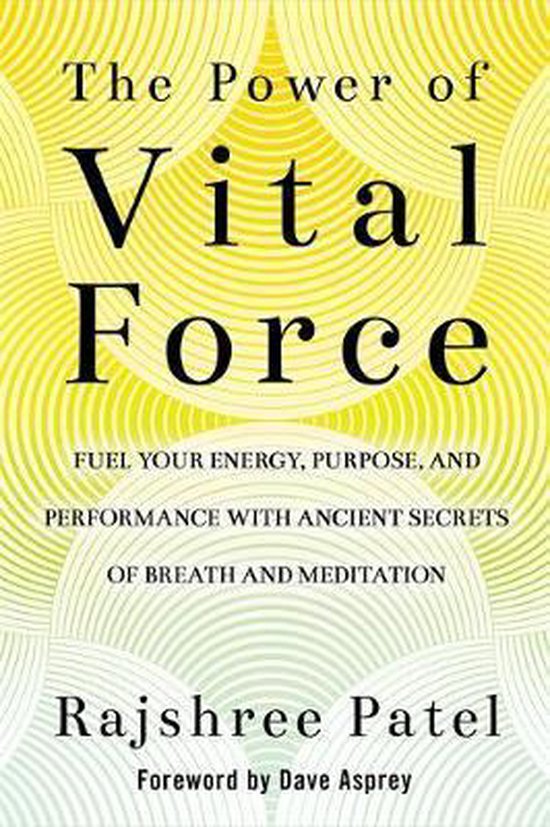 The Power of Vital Force
Hardcover, ISBN 9781401956318
€ 20.99
Uitleg: klik op een winkel om te zien of het boek daar te koop is.
Boekbeschrijving
'In this age of rampant burnout and stress, Patel shares a refreshing perspective on how we can use time-tested practices to seriously boost our energy, vitality and wellbeing. Rich, practical and life-changing wisdom!' - Emma Seppala, PhD, author of The Happiness Track Why do some people thrive while others just get by? What's their secret to peak performance and maximum happiness? Some call it the zest, the gusto, or the extra edge in life. The ancient Indian spiritual tradition Vedanta calls it prana, or life force. We can call it vital force. By any name, it's the fundamental fuel that activates and optimizes all physical, emotional, and cognitive functions, including consciousness, perception, thinking, judgment, and memory. In modern life, we have forgotten the golden key - the higher our energy, the better our performance in everything we do. Energy naturally impacts mind-set and moves us toward greater happiness, success, and self-awareness. This book gives you back your power with simple tools to take hold of the limitless energy of life itself - more swiftly and easily than you ever thought possible. Rajshree Patel is a former federal prosecutor who discovered Vedanta by accident and went on to become an internationally renowned teacher of its deep wisdom and dynamic practice. In these pages, she reveals: - what vital force is, how it influences every single aspect of your life, how to enhance it-and how your mind, the biggest energy hog, can drain it; - tools to dial down the chatter of your racing mind and resolve your personal energy crisis; - why traditional mindfulness meditation may not be your best path to inner peace; - easy biohacking techniques, from breath work to meditation to movement, that reduce stress and maximize joy; and - ancient secrets to fuel your purpose and performance in every aspect of your life. The Power of Vital Force is a practical pathway to the unlimited source of energy and intelligence that exists beyond the thinking and reasoning mind.
Boekspecificaties
Auteur
Uitgever
Hay House Inc
Verschijningsdatum
augustus 2019

Aantal pagina's
320 pagina's

Extra groot lettertype
Nee

Subtitel
Fuel Your Energy, Purpose, and Performance with Ancient Secrets of Breath and Meditation
Lezers van The Power of Vital Force toonden ook interesse in de volgende boeken. Klik hier om meer aangeraden boeken te bekijken.
Bekijk de boeken tips voor meer inspiratie. Leuk voor jezelf of als cadeau, hier vind je alle boeken tips.
De biografie van Memphis Depay
Memphis Depay is misschien wel een van de meest besproken voetballers van deze generatie. In Heart of a lion lees je het levensverhaal van Memphis Depay, geschreven door Simon Zwartkruis.
De Bergmankronieken deel 6
Het oordeel van Hjörth Rosenfeldt is het nieuwste deel in de serie De Bergmankronieken. In dit boek is de onuitstaanbare psycholoog Sebastian teruggekeerd naar zijn oude leven.