The Horror Beyond Life's Edge: 560+ Macabre Classics, Supernatural Mysteries & Dark Tales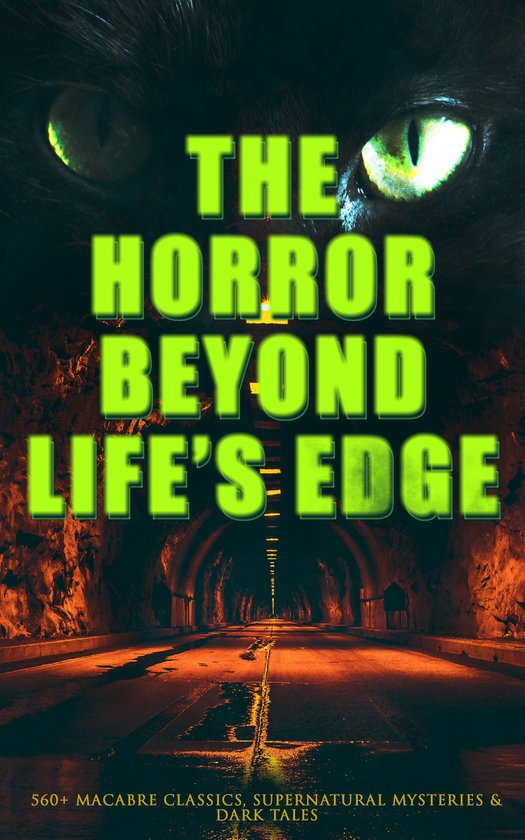 € 0.99
The Horror Beyond Life's Edge: 560+ Macabre Classics, Supernatural Mysteries & Dark Tales
Kijk voor 'The Horror Beyond Life's Edge: 560+ Macabre Classics, Supernatural Mysteries & Dark Tales' bij de volgende boekwinkels:
Are you ready to step over the edge? This grand horror collection contains the greatest supernatural mysteries, gothic novels, dark romances & macabre tales: Bram Stoker: Dracula The Squaw… John William Polidori: The Vampyre James Malcolm Rymer & Thomas Peckett Prest: Sweeney Todd, the Demon Barber of Fleet Street Washington Irving: The Legend of Sleepy Hollow Rip Van Winkle Edgar Allan Poe: The Cask of Amontillado The Masque of the Red Death The Premature Burial Mary Shelley: Frankenstein The Mortal Immortal The Evil Eye Gaston Leroux: The Phantom of the Opera Marjorie Bowen: Black Magic Oscar Wilde: The Picture of Dorian Gray Henry James: The Turn of the Screw The Ghostly Rental… H. P. Lovecraft: The Dunwich Horror The Shunned House… Charles Dickens: The Mystery of Edwin Drood The Haunted House… Wilkie Collins: The Haunted Hotel The Woman in White Richard Marsh: The Beetle Arthur Conan Doyle: The Hound of the Baskervilles The Silver Hatchet… Joseph Sheridan Le Fanu: Carmilla… Arthur Machen: The Great God Pan… William Hope Hodgson: The Ghost Pirates The Night Land E. F. Benson: The Room in the Tower The Terror by Night… Nathaniel Hawthorne: The Birth Mark The House of the Seven Gables… Thomas Hardy: What the Shepherd Saw The Grave by the Handpost Jane Austen: Northanger Abbey Charlotte Brontë: Jane Eyre Emily Brontë: Wuthering Heights Guy de Maupassant: The Horla Horace Walpole: The Castle of Otranto William Thomas Beckford: Vathek Matthew Gregory Lewis: The Monk Ann Radcliffe: The Mysteries of Udolpho The Italian Théophile Gautier: Clarimonde The Mummy's Foot M. R. James: Ghost Stories of an Antiquary A Thin Ghost and Others Ambrose Bierce: Can Such Things Be? Present at a Hanging and Other Ghost Stories M. P. Shiel: Shapes in the Fire Rudyard Kipling: My Own True Ghost Story The City of Dreadful Night The Mark of the Beast… Stanley G. Weinbaum: The Dark Other Émile Erckmann & Alexandre Chatrian: The Man-Wolf… Amelia B. Edwards: The Phantom Coach… Pedro De Alarçon: The Nail Walter Hubbell: The Great Amherst Mystery Some Real American Ghosts Some Chinese Ghosts…
Details
Auteurs : Mary Shelley, H. P. Lovecraft
ISBN : 9788026898290
Taal : Engels
Uitgever : E-Artnow
Uitvoering : E-book
Verschijningsdatum : oktober 2018
Druk : 1ᵉ druk
Anderen lazen ook
Meer boeken zoals dit
Wil je meer boeken zoals 'The Horror Beyond Life's Edge: 560+ Macabre Classics, Supernatural Mysteries & Dark Tales' lezen? Kijk dan eens naar de andere titels die door lezers van dit boek werden bekeken. Misschien vind je daar het boek dat je zoekt.