Educated by Tara Westover (Trivia-On-Books)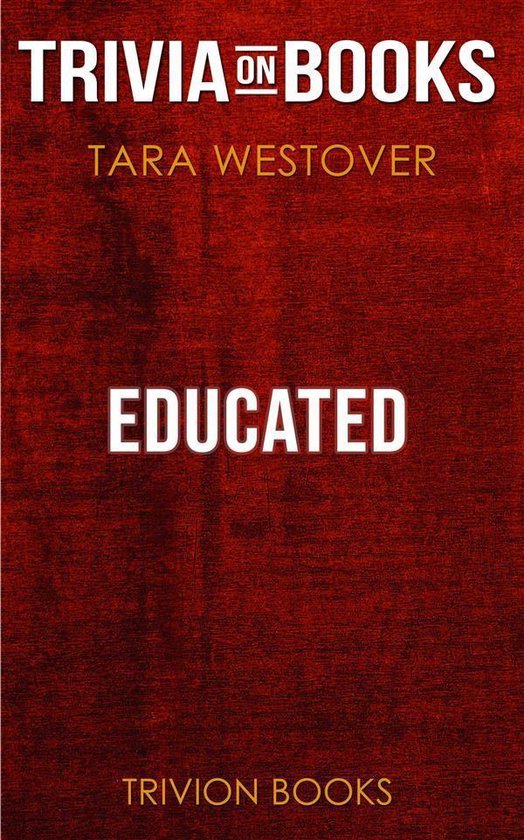 Educated by Tara Westover (Trivia-On-Books)
E-book, ISBN 9788829502554
€ 3.49
Uitleg: klik op een winkel om te zien of het boek daar te koop is.
* E-books van Amazon zijn alleen te lezen op de Kindle e-reader.
** Kijk in Apple iTunes op welke apparaten dit e-book leesbaar is.
Boekbeschrijving
Trivia-on-Book: Educated by Tara Westover

Take the challenge and share it with friends and family for a time of fun!

"Educated" is the tale of Tara Westover's discovery of self and a world she had never known. Raised as a survivalist in the mountains of Idaho, Westover never knew much of the outside world. She spent her time in the wilderness preparing for the end of the world with her family. Illnesses were treated with herbal medicine. Food was gathered and prepared by the family. The first time she heard of the world outside her bubble was when her older brother decided to leave this isolated life and go to college. He returned with tales of a whole other world outside their little community and Tara was fascinated. She did all she could to prepare for the ACT—a difficult task having never received a formal education—and she got into a university. "Educated" is a memoir about Tara's journey into the great unknown of the real world.

"Educated" became a New York Times Bestseller not long after its released and made Amazon's top 100 Best Sellers book list. No small feat for the first time author.

You may have read the book, but not have liked it.

You may have liked the book, but not be a fan.

You may call yourself a fan, but few truly are. Are you a fan?

Trivia-on-Books is an independently curated trivia quiz on the book for readers, students, and fans alike. If you're ready to take the challenge yourself or share it with friends and family for a time of fun, Trivia-on-Books provides a unique approach to the book that is both insightful and educational!

Features You'll Find Inside:

• 30 Multiple choice questions on the book, plots, characters, and author

• Insightful commentary to answer every question

• Complementary quiz material for yourself or your reading group

• Results provided with scores to determine ''status''

Note: This is an unofficial trivia meant to supplement a reader's experience to books they already love. Trivia-on-Books provides quality and value with a unique approach that is both insightful and educational.

Boekspecificaties
Auteur
Uitgever
Trivion Books
Verschijningsdatum
augustus 2018

Lees dit ebook op
Android (smartphone en tablet) | Kobo e-reader | Desktop (Mac en Windows) | iOS (smartphone en tablet) | Windows (smartphone en tablet) | Overige e-reader
Lezers van Educated by Tara Westover (Trivia-On-Books) toonden ook interesse in de volgende boeken. Klik hier om meer aangeraden boeken te bekijken.
Onbeperkt ebooks downloaden? Met een Kobo Plus abonnement heb je toegang tot ruim 200.000 titels. Een abonnement kost € 9,99 per maand en is maandelijks opzegbaar. Probeer Kobo Plus nu 30 dagen gratis en je hebt altijd iets te lezen. Tip: combineer met een Kobo e-reader.
Bekijk de boeken tips voor meer inspiratie. Leuk voor jezelf of als cadeau, hier vind je alle boeken tips.
De biografie van Memphis Depay
Memphis Depay is misschien wel een van de meest besproken voetballers van deze generatie. In Heart of a lion lees je het levensverhaal van Memphis Depay, geschreven door Simon Zwartkruis.
De Bergmankronieken deel 6
Het oordeel van Hjörth Rosenfeldt is het nieuwste deel in de serie De Bergmankronieken. In dit boek is de onuitstaanbare psycholoog Sebastian teruggekeerd naar zijn oude leven.