Full Moon Security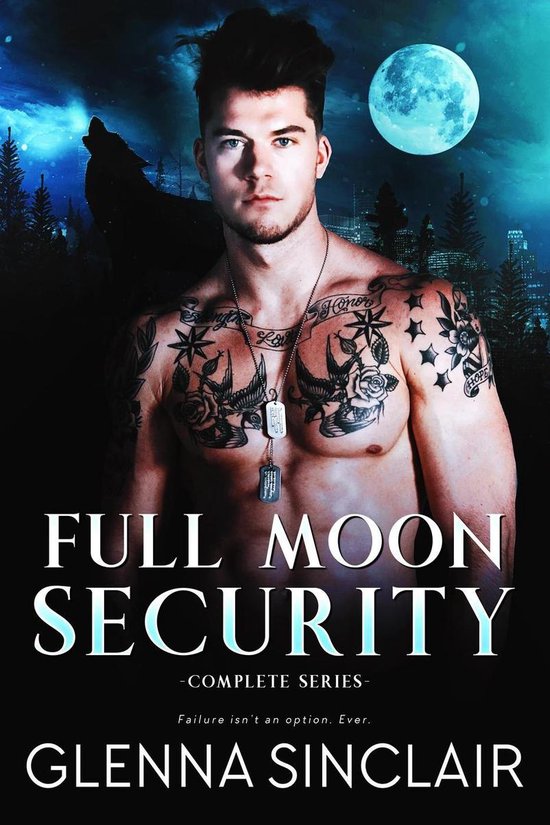 € 2.99
5 Books. Full Length. No Cliffhangers. More than 1,000 pages :) Follow the shifters of Full Moon Security as they fight hard for family, friendship, and love. SAM
Like all the other agents of FMS, Samuel Fitzgerald left the US Government's secretive Paranormal Research Board to focus entirely on protecting the homeland. But when Col. Harrington disappeared six months before without any word, their supernatural-focused missions seemed to have disappeared with him, and now they're stuck working plain old, boring security cases. That is, until Sam and his dragonkin boss get a call on a phone they didn't know Harrington possessed. A demon-worshiping cult has surfaced in East Texas, and it's up to him to save the small town of Potterswell, and the most beautiful coroner's assistant he's ever met: Faith Riley. CARTER
Carter Grant is like any other bear shifter out there: he wants a nice tree to sharpen his claws on, some peace and quiet to keep away his memories of the war, and a mate. But when his dragonkin boss Kris Cole and FMS's resident witch Tabitha show up out of nowhere, he has a feeling they're going to take the first two from him. How was he to know their mission to stop a possession and series of murders-by-fire in the town of Shamrock would lead him to the third? RYDER
It started with an investigation that turned out nothing extraordinary in Philadelphia. But now Ryder Williams, panther shifter, has run over a phantasmal ghost on the highway outside Camelot, the most haunted town in the US. At least, he thinks he has! Turns out the small town is putting on some kind of music festival to celebrate the 150th anniversary of a witch cursing their town while they burned her at the stake, but not everything is as it seems. As ghosts of residents begin to revisit the living and concert-goers begin to change for some reason into shapes not normally their own, it's up to Ryder Williams and Stephanie Kaufman to save Camelot and all its residents. Not to mention the hundreds of visitors who are now stalking the streets looking for fresh meat. LUKE
With Kris Cole and the elusive dragonkin shifter Hunter Jackson away from the office, Tabitha finds an old case the PRB had to ignore years before. Someone is murdering high class call girls in the small town of Prophet, Arizona. Not just any murders, either. Somehow, they're stealing their hearts without any signs of surgery! When Luke arrives on the scene, he finds the beautiful Molly Long looking for her roommate, and they're talking their way past the security gate of an exclusive club for the rich and powerful. Is this some cult, or just a deranged madman who has figured out how to tear the hearts from his victims? As the shadows lengthen, though, they'll have to race to find the killer, and to hopefully find Molly's kidnapped roommate. KRIS
Kris and Hunter disappeared three months before in the northern tundra while on their search for Col. Harrington. Now, they've found what happened to him . . . and may have found their true feelings for each other, as well. Their discovery is complicated, though, by a paramilitary group striking out from the deserts of western Mexico. The group has been excavating strange Aztec ruins, but haven't yet found the weapon which will bring the mortal world to its knees and allow the supernatural to once again reign supreme. Until now.
Details
Auteur : Glenna Sinclair
ISBN : 9781386457183
Taal : en
Uitgever : Glenna Sinlcair
Uitvoering : E-book