The Big Book of Crime: Complete Sherlock Holmes Books, True Crime Stories & Detective Tales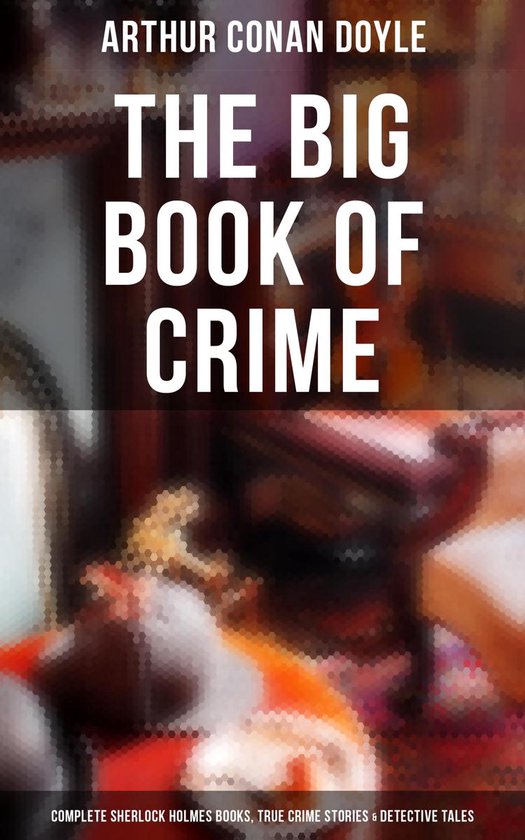 € 0.49
The Big Book of Crime: Complete Sherlock Holmes Books, True Crime Stories & Detective Tales
Kijk voor 'The Big Book of Crime: Complete Sherlock Holmes Books, True Crime Stories & Detective Tales' bij de volgende boekwinkels:
This carefully edited complete Sherlock Holmes collection and other crimemMysteries has been designed and formatted to the highest digital standards and adjusted for readability on all devices. Table of contents: Sherlock Holmes Mysteries A Study in Scarlet The Sign of Four The Hound of the Baskervilles The Valley of Fear The Adventures of Sherlock Holmes The Memoirs of Sherlock Holmes The Return of Sherlock Holmes His Last Bow The Case Book of Sherlock Holmes The Field Bazaar How Watson Learned the Trick Other Mysteries Mystery of Cloomber The Firm of Girdlestone Mysteries and Adventures The Gully of Bluemansdyke The Parson of Jackman's Gulch My Friend the Murderer The Silver Hatchet The Man from Archangel That Little Square Box A Night Among the Nihilists Selecting a Ghost: The Ghosts of Goresthorpe Grange The Mystery of Sasassa Valley Our Derby Sweepstakes The American's Tale Bones, the April Fool of Harvey's Sluice Round the Fire Stories The Leather Funnel The Beetle Hunter The Man with the Watches The Pot of Caviare The Japanned Box The Black Doctor Playing with Fire The Jew's Breastplate The Lost Special The Club-Footed Grocer The Sealed Room The Brazilian Cat The Usher of Lea House School The Brown Hand The Fiend of the Cooperage Jelland's Voyage B.24 The Uncharted Coast The Law of the Ghost A New Light on Old Crimes The Shadows on the Screen An Old Story Retold The Absolute Proof A Worker of Wonders True Crime Stories The Bravoes of Market-Drayton The Holocaust of Manor Place The Love Affair of George Vincent Parker The Debatable Case of Mrs. Emsley The Case of Mr. George Edalji The Case of Oscar Slater Biography Memories and Adventures: An Autobiography Arthur Conan Doyle (1859-1930) was a British writer best known for his detective fiction featuring the character Sherlock Holmes. He was a prolific writer whose other works include fantasy and science fiction stories, plays, romances, poetry, non-fiction and historical novels.
Details
Auteur : Arthur Conan Doyle
ISBN : 9788027219148
Taal : Engels
Uitgever : Musaicum Books
Uitvoering : E-book
Verschijningsdatum : oktober 2017
Anderen lazen ook
Meer boeken zoals dit
Wil je meer boeken zoals 'The Big Book of Crime: Complete Sherlock Holmes Books, True Crime Stories & Detective Tales' lezen? Kijk dan eens naar de andere titels die door lezers van dit boek werden bekeken. Misschien vind je daar het boek dat je zoekt.