The Greatest Writers of All Time - 100 Books You Must Read Before You Die - volume 1 (Book House Publishing)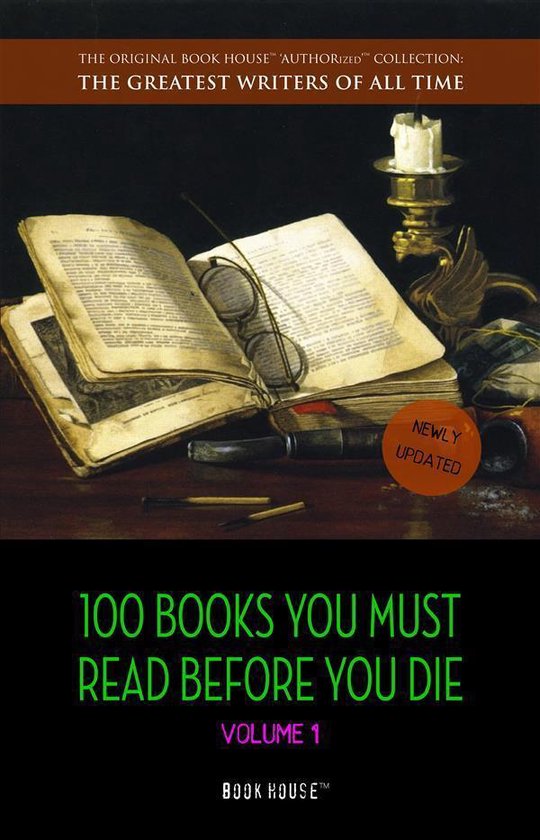 € 0.99
The Greatest Writers of All Time - 100 Books You Must Read Before You Die - volume 1 (Book House Publishing)
Kijk voor 'The Greatest Writers of All Time - 100 Books You Must Read Before You Die - volume 1 (Book House Publishing)' bij de volgende boekwinkels:
This book, newly updated, contains now several HTML tables of contents that will make reading a real pleasure!
The first table of contents (at the very beginning of the ebook) lists the titles of all novels included in this volume. By clicking on one of those titles you will be redirected to the beginning of that work, where you'll find a new TOC that lists all the chapters and sub-chapters of that specific work. This 1st volume contains the following 50 works, arranged alphabetically by authors' last names: Alcott, Louisa May: Little Women
Apuleius, Lucius: The Golden Ass
Austen, Jane: Pride and Prejudice
Austen, Jane: Emma
Balzac, Honoré de: Father Goriot
Barbusse, Henri: The Inferno
Brontë, Anne: The Tenant of Wildfell Hall
Brontë, Charlotte: Jane Eyre
Brontë, Emily: Wuthering Heights
Butler, Samuel: The Way of All Flesh
Carroll, Lewis: Alice's Adventures in Wonderland
Cervantes, Miguel de: Don Quixote
Cervantes, Miguel de: The Travels of Persiles and Sigismunda
Chopin, Kate: The Awakening
Cleland, John: Fanny Hill
Collins, Wilkie: The Moonstone
Conrad, Joseph: Heart of Darkness
Conrad, Joseph: Nostromo
Cooper, James Fenimore: The Last of the Mohicans
Crane, Stephen: The Red Badge of Courage
Defoe, Daniel: Robinson Crusoe
Defoe, Daniel: Moll Flanders
Dickens, Charles: Bleak House
Dickens, Charles: Great Expectations
Dostoyevsky, Fyodor: Crime and Punishment
Dostoyevsky, Fyodor: The Idiot
Doyle, Arthur Conan: The Hound of the Baskervilles
Dreiser, Theodore: Sister Carrie
Dumas, Alexandre: The Three Musketeers
Dumas, Alexandre: The Count of Monte Cristo
Eliot, George: Middlemarch
Fielding, Henry: Tom Jones
Fitzgerald, F. Scott: The Great Gatsby
Fitzgerald, F. Scott: Tender is the Night
Flaubert, Gustave: Madame Bovary
Flaubert, Gustave: Sentimental Education
Ford, Ford Madox: The Good Soldier
Gaskell, Elizabeth: North and South
Goethe, Johann Wolfgang von: The Sorrows of Young Werther
Gogol, Nikolai: Dead Souls
Gorky, Maxim: The Mother
Haggard, H. Rider: King Solomon's Mines
Hall, Radclyffe: The Well of Loneliness
Hardy, Thomas: Tess of the D'Urbervilles
Hawthorne, Nathaniel: The Scarlet Letter
Homer: The Odyssey
Hugo, Victor: The Hunchback of Notre Dame
Hugo, Victor: Les Misérables
James, Henry: The Portrait of a Lady
Jerome, Jerome K.: Three Men in a Boat In the 2nd volume of 100 Books You Must Read Before You Die you will find the remaining 50 works.
Details
Auteurs : Lewis Carroll, Victor Hugo
ISBN : 9788826061467
Taal : en
Uitgever : Book House Publishing
Uitvoering : E-book
Anderen lazen ook
Meer boeken zoals dit
Wil je meer boeken zoals 'The Greatest Writers of All Time - 100 Books You Must Read Before You Die - volume 1 (Book House Publishing)' lezen? Kijk dan eens naar de andere titels die door lezers van dit boek werden bekeken. Misschien vind je daar het boek dat je zoekt.