Burberry 164 Success Secrets - 164 Most Asked Questions On Burberry - What You Need To Know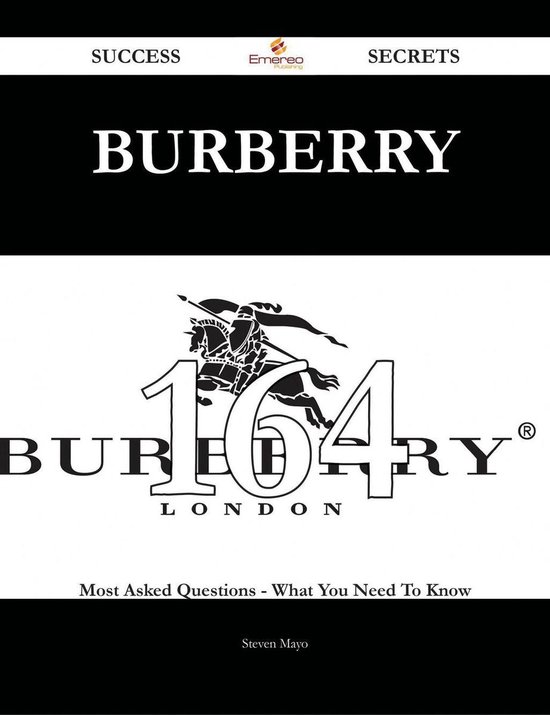 Burberry 164 Success Secrets - 164 Most Asked Questions On Burberry - What You Need To Know
E-book, ISBN 9781488821271
€ 15.99
Uitleg: klik op een winkel om te zien of het boek daar te koop is.
* E-books van Amazon zijn alleen te lezen op de Kindle e-reader.
** Kijk in Apple iTunes op welke apparaten dit e-book leesbaar is.
Boekbeschrijving
A brand-new Burberry Guide. There has never been a Burberry Guide like this.

It contains 164 answers, much more than you can imagine; comprehensive answers and extensive details and references, with insights that have never before been offered in print. Get the information you need--fast! This all-embracing guide offers a thorough view of key knowledge and detailed insight. This Guide introduces what you want to know about Burberry.

A quick look inside of some of the subjects covered: Frankfurt am Main - Shopping streets, Robert Pattinson - In the media, Agyness Deyn - Modelling, Christopher Bailey (fashion designer), Christian Dior SA, Public service advertising - Famous public information films, Gabriella Wilde - Career, Esti Ginzburg - Modelling career, 3D holography - Things often confused with holograms, Poppy Delevingne - Career, Angela Ahrendts - Career, Stella Tennant - Career, Alex Pettyfer, Cara Delevingne - Modelling, Diane Kruger - Modeling, Los Angeles International Airport - Tom Bradley International Terminal, One Night Only (band) - ONO Wednesdays, Joan Smalls - Modeling, Obsessed (2009 film) - Set and costumes, Kate Moss - Controversy and return to prominence, 808 Mafia - 2012, Beverly Center - Description, Kurfürstendamm - Description, Thomas Burberry, SouthPark Mall (Charlotte) - 2000s expansion, Thomas Burberry - Career, Burberry - Early years, 19th century, David Hockney - Fashion, Chief creative officer - People, Designer clothing - Designers by country, Burberry - 21st century, Santa Monica Place - Redevelopment, Tartan - Other tartans, Newbury Street - Features, Gemma Ward - It girl, 2004–2007, Sam Riley - Modelling, Basingstoke - Victorian history, Scarf - Manufacturing of scarves, Lenox Square, Suki Waterhouse - Modeling, Burberry - 20th century, and much more...

Boekspecificaties
Auteur
Uitgever
Emereo Publishing
Verschijningsdatum
2014-12-02

Aantal pagina's
164 pagina's

Lees dit ebook op
Android (smartphone en tablet) | Kobo e-reader | Desktop (Mac en Windows) | iOS (smartphone en tablet) | Windows (smartphone en tablet) | Overige e-reader

Oorspronkelijke releasedatum
2014-12-02
Lezers van Burberry 164 Success Secrets - 164 Most Asked Questions On Burberry - What You Need To Know toonden ook interesse in de volgende boeken. Klik hier om meer aangeraden boeken te bekijken.
Onbeperkt ebooks downloaden? Met een Kobo Plus abonnement heb je toegang tot ruim 200.000 titels. Een abonnement kost € 9,99 per maand en is maandelijks opzegbaar. Probeer Kobo Plus nu 30 dagen gratis en je hebt altijd iets te lezen. Tip: combineer met een Kobo e-reader.
Bekijk de boeken tips voor meer inspiratie. Leuk voor jezelf of als cadeau, hier vind je alle boeken tips.
De biografie van Memphis Depay
Memphis Depay is misschien wel een van de meest besproken voetballers van deze generatie. In Heart of a lion lees je het levensverhaal van Memphis Depay, geschreven door Simon Zwartkruis.
De Bergmankronieken deel 6
Het oordeel van Hjörth Rosenfeldt is het nieuwste deel in de serie De Bergmankronieken. In dit boek is de onuitstaanbare psycholoog Sebastian teruggekeerd naar zijn oude leven.