Emerald Magic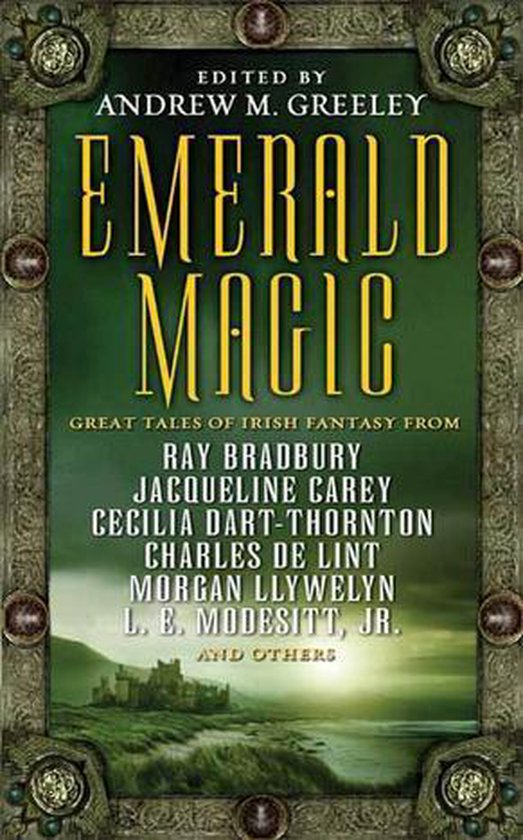 € 7.99
Mythology and magic come alive in this collection of Irish fantasy stories by some of today's finest authors.
Ireland is a nation that holds fast to its history and heritage, and nowhere is that more true than in its folktales and legends. From the great Celtic myths featuring the bard Taliesin, the terrible Morrigan, the heroic Cuchulain, or the noble and cunning Sidhe to strange and mysterious tales of today, the stories and traditions of the Emerald Isle hold a strong attraction for many. Stories are told in cottage hearths from Galway to Dublin, and from the windblown rocky Cliffs of Mohr to the seaside villages where fishing boats still roam the oceans. Tall tales and town stories are as much a way of life as a pint and good conversation at the local pub.
Emerald Magic brings together today's best fantasy authors to explore the myths of the Irish, telling their own versions of these ancient tales of luck, love, and honor, or drawing upon centuries of Irish myths and folktales and updating them into brand-new stories. Edited and with an introduction by bestselling author Father Andrew M. Greeley, Emerald Magic contains fourteen wonderful stories of legend and lore, including:
"A Woman Is a Fast Moving Picnic" by Ray Bradbury. A group of pub regulars set out to discover the truth behind a local song and answer that age-old question: Just how fast does a person sink in a bog?
"The Isle of Women" by Jacqueline Carey. In an age long ago, a warrior sailing for vengeance happens upon an island ruled by a woman like no other. But if he is to continue his quest, he must choose between her and his duty.
"Speir-Bhan" by Tanith Lee. A woman who finds and reads her grandfather's diary unleashes the specter of an old debt that, even in today's modern age, must be
paid---one way or the other.
"A Drop of Something Special in the Blood" by Fred Saberhagen. In the late eighteenth century, an Irish author encounters a being that he will turn into his greatest literary creation.
"The Cat with No Name" by Morgan Llywelyn. A lonely girl neglected by her parents finds an unexpected friend in the alley behind her home---one that may be more than it first seems.
"The Butter-Spirit's Tithe" by Charles de Lint. Even in twenty-first-century America, it is still not wise to anger the spirits of the world, as a young musician discovers when a butter-spirit who had cursed him nine years earlier comes to claim his soul.
"Land of Heart's Desire" by Elizabeth Haydon. A young man discovers the magical truth about his parents' marriage, and sets a chain of events in motion that will force him to choose between the life he has always known---and another life he could have.
"The Swan Pilot" by L. E. Modesitt, Jr. In the far future, spaceship pilots travel through interdimensional portals from planet to planet---and the only thing more important than knowing how to fly is knowing how to handle the strange hallucinations that appear during the journey.
Filled with the spirit and magic of the stories of Ireland, Emerald Magic is a collection of fantasy stories that will delight and captivate from the first page to the last. At the Publisher's request, this title is being sold without Digital Rights Management Software (DRM) applied.
Details
Auteur : Andrew M. Greeley
ISBN : 9781429912372
Taal : Engels
Uitgever : Tor Books
Uitvoering : E-book
Verschijningsdatum : april 2007
Aantal pagina's : 368
Anderen lazen ook
Meer boeken zoals dit
Wil je meer boeken zoals 'Emerald Magic' lezen? Kijk dan eens naar de andere titels die door lezers van dit boek werden bekeken. Misschien vind je daar het boek dat je zoekt.