Who Moved My Cheese?
An Amazing Way to Deal with Change in Your Work and in Your Life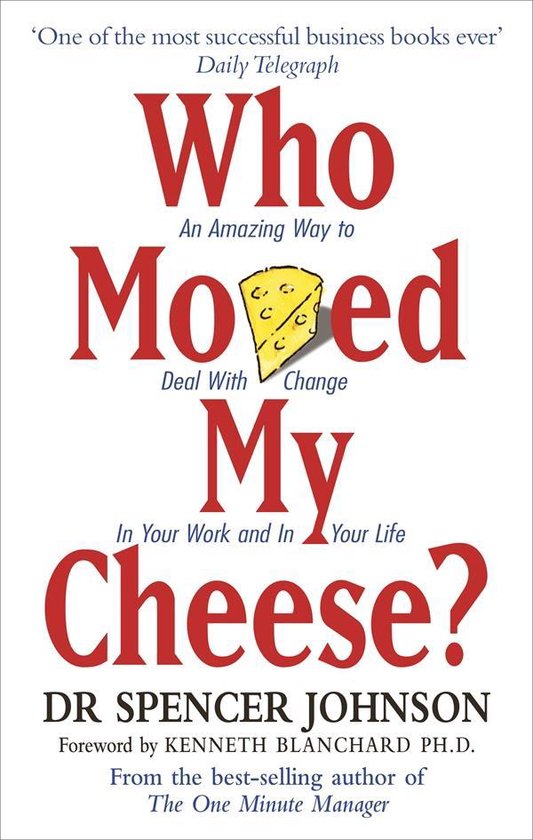 Who Moved My Cheese?
Paperback, ISBN 9780091816971
€ 7.69
Uitleg: klik op een winkel om te zien of het boek daar te koop is.
Boekbeschrijving
With over 2.5 million copies sold worldwide, Who Moved My Cheese? is a simple parable that reveals profound truths It is the amusing and enlightening story of four characters who live in a maze and look for cheese to nourish them and make them happy. Cheese is a metaphor for what you want to have in life, for example a good job, a loving relationship, money or possessions, health or spiritual peace of mind. The maze is where you look for what you want, perhaps the organisation you work in, or the family or community you live in. The problem is that the cheese keeps moving. In the story, the characters are faced with unexpected change in their search for the cheese. One of them eventually deals with change successfully and writes what he has learned on the maze walls for you to discover. You'll learn how to anticipate, adapt to and enjoy change and be ready to change quickly whenever you need to. Discover the secret of the writing on the wall for yourself and enjoy less stress and more success in your work and life. Written for all ages, this story takes less than an hour to read, but its unique insights will last a lifetime. Spencer Johnson, MD, is one of the world's leading authors of inspirational writing. He has written many New York Times bestsellers, including the worldwide phenomenon Who Moved My Cheese? and, with Kenneth Blanchard, The One Minute Manager. His works have become cultural touchstones and are available in 40 languages.
Boekspecificaties
Druk
Reprinted edition
ISBN
9780091816971
Auteur
Uitgever
Ebury Publishing
Verschijningsdatum
januari 2002

Afmetingen
19,7 x 12,4 x 0,9 cm

Aantal pagina's
94 pagina's

Aanbevolen leeftijd
18 jaar

Extra groot lettertype
Nee
Lezers van Who Moved My Cheese? toonden ook interesse in de volgende boeken. Klik hier om meer aangeraden boeken te bekijken.
Bekijk de boeken tips voor meer inspiratie. Leuk voor jezelf of als cadeau, hier vind je alle boeken tips.
De biografie van Memphis Depay
Memphis Depay is misschien wel een van de meest besproken voetballers van deze generatie. In Heart of a lion lees je het levensverhaal van Memphis Depay, geschreven door Simon Zwartkruis.
De Bergmankronieken deel 6
Het oordeel van Hjörth Rosenfeldt is het nieuwste deel in de serie De Bergmankronieken. In dit boek is de onuitstaanbare psycholoog Sebastian teruggekeerd naar zijn oude leven.